Horses - Our competition team
---
Specialising in the performance horse, we take on horses for schooling, campaigning, and starting off young horses. The focus is on training horses classically, with the aim of increasing their confidence and willingness to form a successful partnership.
Sophia is currently campaigning and training a team of horses in both eventing and show jumping competitions around Victoria and interstate. She has numerous horses in work ranging from breakers to FEI horses. Meet the horses below!
The focus is on training horses classically, with the aim of increasing their confidence and willingness to form a successful partnership.Sophia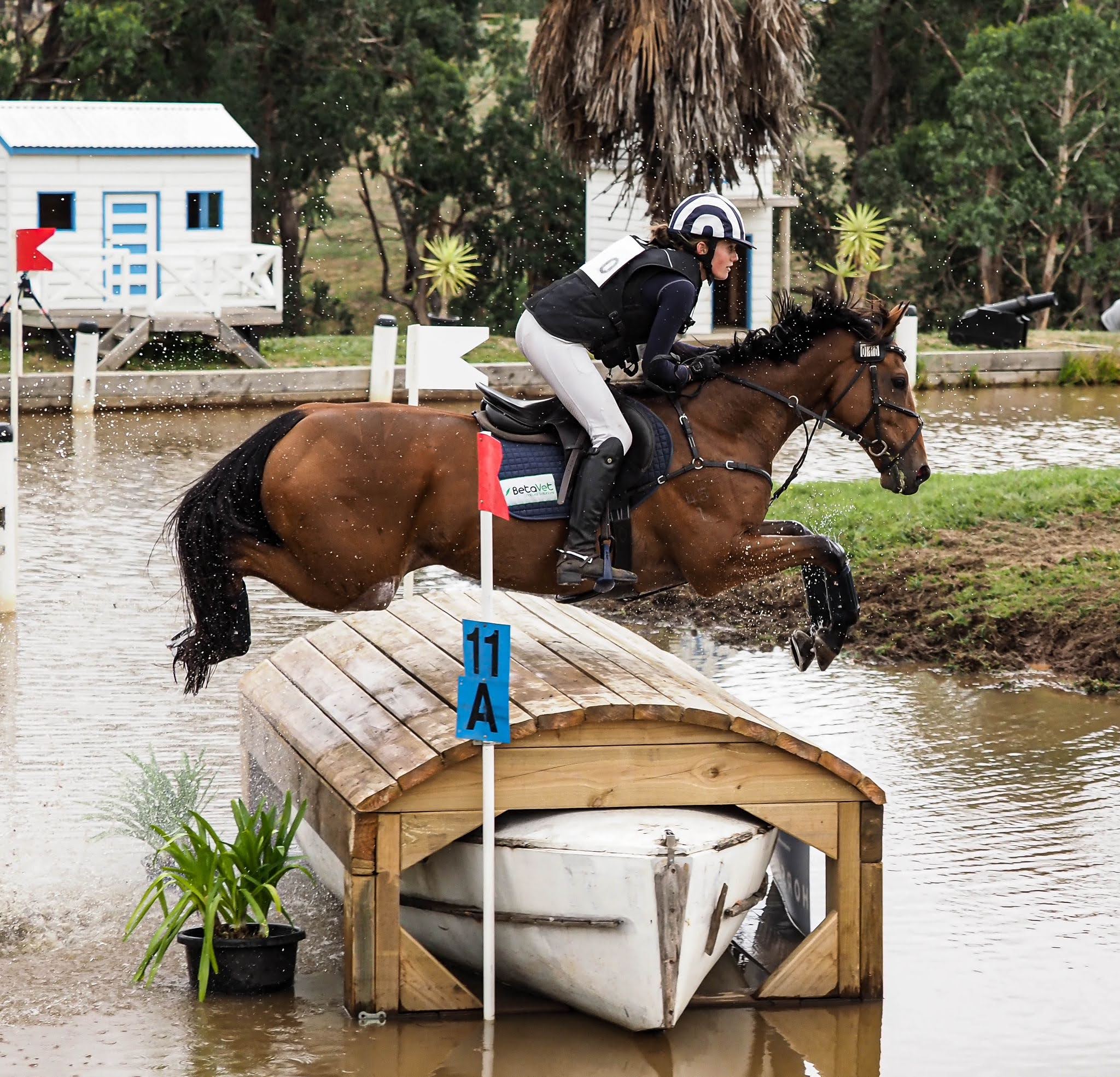 Humble Glory
4**** eventer & 1.35m show jumper
---
Humble Glory, or Hughie as we affectionately call him, is our current superstar. He is an 11yo, 16hh TB gelding, and has had multiple wins at FEI 4 Star level eventing. He has quite the story as to how he has gotten to this level. He arrived in a stock crate in 2017 as a very unassuming Off The Track thoroughbred, who had raced, spelled, and then done a little bit of stock work! I was meant to sell him for his owners, but ended up buying him for myself when I realised just how trainable he was. Within weeks he was jumping, and I was blown away by his combination of scope, honesty and bravery. He had his first eventing start 3 months after I bought him, and won the EvA 95 at Spring HT. A year later and he competed in his first 3 star at the same event, placing 3rd! He went on to win the Young Rider Championship at the Australian 3DE just 18 months off the track, and withing 2 years had stepped up to and won at 4 star level. He has since completed multiple seasons at 4 star level, and is an incredibly reliable performer. In all of his competitions results he has never has a cross country jumping penalty. He is also a fantastic show jumper and has jumped and placed in 135cm straight show jumping competitions, with multiple wins at 130cm.

---
---
Seattle Park
Seattle Park – 2** Eventer and 125cm Show Jumper
---
Seattle Park is a 9yo 16hh thoroughbred gelding currently competing at 2** level eventing. He is affectionately known as Basil around the stables, and is the sweetest and most gentle horse on the team. He has had lots of placings at 2** level and is a brave and careful jumper who is showing potential for the top levels of eventing.
---
---
---
Tulara Baltango
2** Eventer and 130cm Show Jumper

---
---
Tulara Baltango is a very exciting young horse. At just 7 years of age, this 16.2hh Warmblood gelding has recently stepped up to 2** level and won four out four eventing starts consecutively, finishing on his dressage score each time. He is fantastic in all three phases, with great movement and a powerful and athletic jump. Tulara Baltango is set to be a superstar!
---
---
Tulara Ziniero
4yo Show Jumping Stallion

---
---
Tulara Ziniero is a 16.2hh 4yo warmblood stallion, by Zinedream, out of Tulara Companion who carries the lines of Companiero and Cornet Obolensky. Tulara Ziniero has an incredibly powerful and scopey jump and is showing all the making of a future world cup jumping horse. He won the 4yo Jumping class at DJWTS 2023, judged by an international panel. He is brave and careful to jump and makes a fantastic shape over a fence, with a natural bascule and powerful back end. He is also available at stud. See Bluebell Equine Park facebook page for more details.
---
---
---
ESB Golden Zone
(Now retired) Grand Prix 1.40m Show Jumping
& 2** Eventing

---

---
Zone was Sophia's first high level horse. Together they jumped around their first Grand Prix show jumping track, and had a lot of success at FEI 2** level eventing, including finishing 5th in Young Rider Championship at Adelaide. After a fantastic career he unfortunately became unsound and has since been retired.
---
Sophia credits much of her success to date to what she learnt through riding Zone. He was renowned for being a challenging ride, being extremely quirky and sensitive.